Hello & Welcome to our site.
Here's a little something about us and how it all began.
The Early Years......
After years of begging my parents for a dog I finally got my wish at the age of 16, A Long Haired GSD who I named Zorba (left) and from that day on my love & affection for the breed began. After a few years of attending & helping out at local obedience classes I decided to begin showing so I visited the Devonmead kennels owned by the late Joy Ackland, and came home with Jasper (right) I then purchased my first Golden Retriever, Ben from the late Mary Hewart of the Golcrest kennels. During this period I also owned Ace my first Welsh Springer Spaniel and I mustn't forget Shallie & Rocky my Whippets (Shallmore) . I have also owned Shetland Sheepdogs & English Setters. All of these dogs had success in and out of the ring. I still miss them all to this day & their memories live on....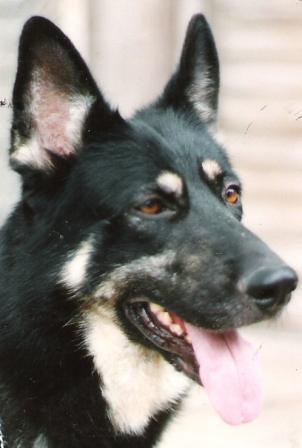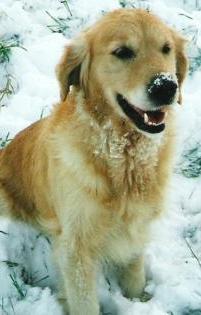 On meeting my husband we decided to apply to the KC for our own affix and from that day Chalksville was born & after much thought and consideration we decided to begin our new venture by concentrating on one breed and that would be the German Shepherds. We approached the Stranmillis Kennels and with the help of Dorothy & Maureen Beach we began our breeding program. With our foundation bitch Daisy (left) Stranmillis Goldilocks & our first stud dog King, Stranmillis Glamour Boy the story began. These two dogs complemented each other very well and they produced some very nice pups indeed a few which may be seen on The Past page on this site. These pups included Champion Chalksville Teddies Girl who went onto win Best of Breed at Crufts in 1995 which is an achievement that we will never forget and a dream come true. These dogs are the foundations of our breeding lines and none of what we have achieved over the years would have been possible without them. It was in 1994 that we returned to the Golcrest Kennels & purchased our foundation Golden Retriever bitch Bonnie (right) Golcrest Good Times At Chalksville, who we also had good success with in the show ring, then in 1999 with the help of Julie Williams and the Trebettyn Kennels we found bonnie a husband in Trebettyn Musket who also combined and complemented each other very well and gave us some lovely dogs and helped us achieve the lines and dogs we have today. In 2016 after many years of asking since handling her dogs in my early years, one my dreams came true when an old friend Margaret Manning of the Manitia's Kennel asked if I could take some of her beloved dogs, So after 30 years I finally got my wish of a Borzoi, shortly before Margaret passed away she asked if I would be willing to continue her lines so in August 2017 we had our first Borzoi Litter, We continue to show our breeds as much as we possibly can around our work commitments and along with the help of my son Elias we hope to continue to do so for some time to come.

We would also like to thank everyone for their help and support over the years in and out of the show ring who have passed their knowledge and experiences onto us and we hope to pass these experiences onto future generations to come.

Thank you for visiting our site, where we present our German Shepherds, Golden Retrievers & Borzois that conform very closely to our interpretations of the Breed Standards. Our aim is to produce quality, healthy dogs of outstanding type and excellent temperaments.